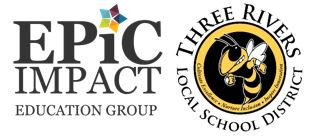 Three Rivers Local School District has started strategic planning to expand on its core values and identify purposeful goals, and we invite you to continue on this journey with us! When discussing the importance of the strategic planning, Superintendent of Three Rivers Local School District, Craig Hockenberry said, "Hard work will not be enough to take our District to the next level. We need a plan and a vision to guide us."
The process is being led by Epic Impact Education Group's CEO Dr. Bobby Moore. Dr. Moore was a principal of a Nationally-recognized middle school and a superintendent in a district that received the highest rating and distinction from the State Department of Education. We are excited to strategize to identify purposeful goals alongside such a passionate and experienced educational leader.
https://www.epicimpactedgroup.com/ceopresident/
To support this thorough analysis and gather additional insights from everyone in the community, we will be conducting focus groups in the coming weeks. The focus groups will include all of our stakeholders, including students, staff, parents, and community members.
Our Key Stakeholder Focus Groups, to which you are invited, will be on September 6th at 6:00 pm and September 7th at 10:00 am. Both focus groups will be held at Three Rivers Local School District's main campus. These two focus groups are open to everyone in Three Rivers, including parents, staff, and community members. We encourage everyone to attend and invite their neighbors and friends to do so as well.
On September 6th and 7th, selected junior and senior students from Taylor High School will also participate in focus groups. We look forward to collaborating with as many stakeholders as possible as we plan for the future of Three Rivers. Thank you in advance for helping us gather information related to this important work! For questions, please contact Jeff Langdon, Three Rivers COO, at jlangdon@trlsd.org.