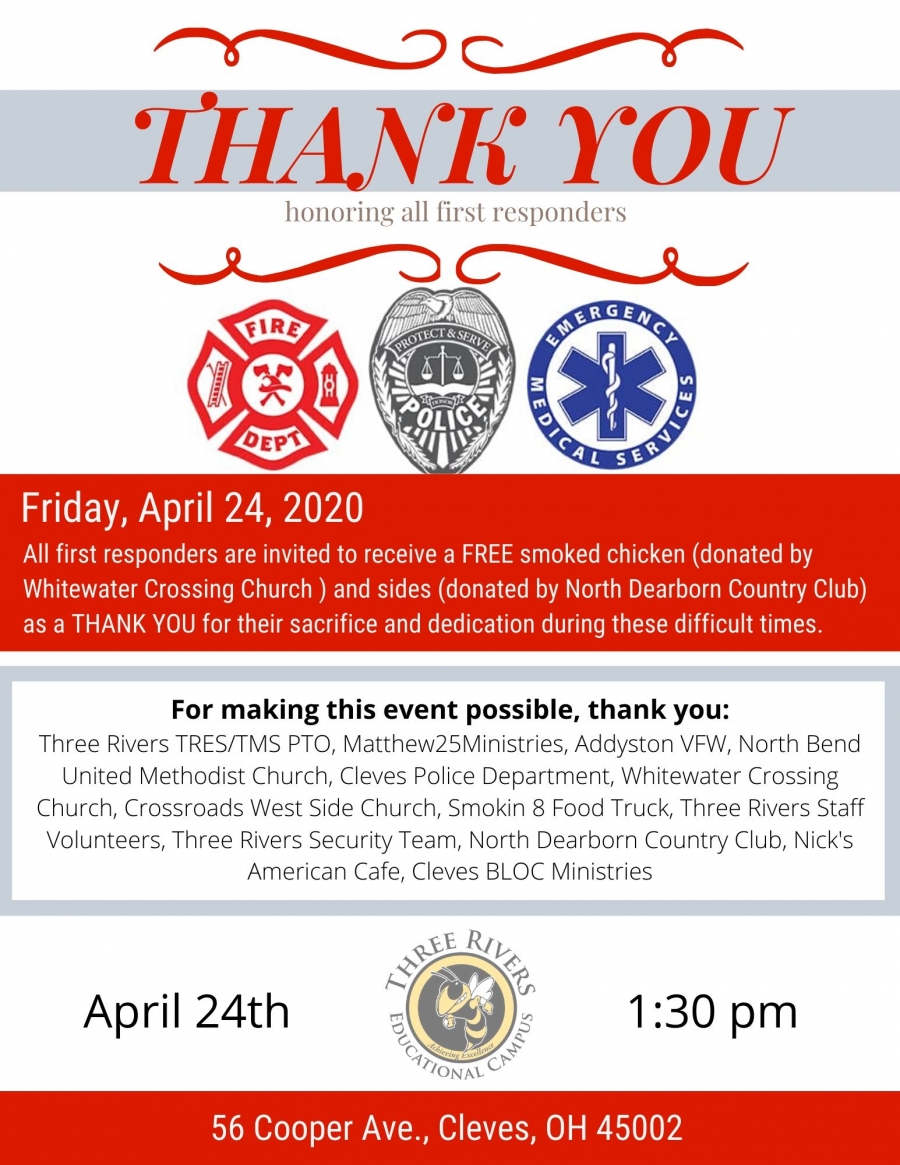 On Friday, April 24, 2020, the Three Rivers Food Distribution Team will be helping families enter the weekends with a hot meal. Thanks to the support of Whitewater Crossing Church, all families that go to the weekly food distribution sites will receive a whole smoked chicken. Terry Mounce, the owner of Smokin 8 Food Truck, has graciously donated his truck on this day so that the chickens can be smoked while traveling to the sites throughout the Three Rivers Community.
Since the first week of the State Stay-at-Home order, a dedicated team of Three Rivers Staff has prepared meals and resources and delivered them throughout the community every Monday, Wednesday, and Friday. Their hard work and focus have helped to feed over 100 families each week.
This week, however, feeding families in need was not enough for the Three Rivers Distribution Team. "We know the sacrifice that so many first responders are making during this pandemic and we all wanted to do something to thank them. The many donations from local organizations has allowed us to do this," stated Sergeant Bingle with the Cleves Police Department. Following the weekly distribution throughout the community, the Distribution team is inviting all first responders to the back entrance of the Three Rivers Campus at 1:30 pm. Smoked chickens donated by Whitewater Crossing and sides donated from the North Dearborn Country Club will be handed out in containers given by Nick's American Café to say a sincere thank you to first responders. "This has been a group effort that could not have happened without the support, donation, time, and generosity of many. We would like to sincerely thank Cleves Bloc Ministries, Nick's American Café, North Dearborn Country Club, Three Rivers Security Team, Three Rivers Staff Volunteers, Smokin 8 Food Truck, Crossroads West Side Church, Whitewater Crossing Church, Cleves Police Department, North Bend United Methodist, Addyston VFW, Three Rivers Elementary and Middle School PTO, and Matthew25Ministries. Our community has come together from the very beginning of this difficult time and the challenges have certainly shown the strength of the Three Rivers Community," Sergeant Bingle explained.
On Friday, April 24, 2020, all first responders are invited to the Three Rivers Campus (back parking area) to receive a free, smoked chicken and sides as a thank you for their continued efforts during the COVID-19 pandemic.