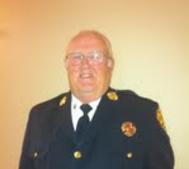 Jim Hughes graduated Taylor High School in 1963. He played on the State Championship Baseball team and was inducted into the 2018 Hall of Fame.
My dad, Jim Hughes, enlisted in the US Air Force 1963-1967 (Vietnam 1964-65). He joined the Miami Township Fire Department as a cadet in the early 1960's, was appointed District Chief in 1982, and was appointed Fire Chief in 1994.
He retired as Fire Chief in 2010 after 50 years of service but remained on 3 more years as a Deputy Chief.
He is currently the Safety Services Administrator for Miami Township and enjoys singing with the Alumni Chorus.
My dad, Jim Hughes, has been an absolutely wonderful husband of 50 years to my mom.
As you can see, Dad has committed his life to serving others and continues to do so today. Many lives have been touched over the years by his compassion to serve and I feel the community is a safer place because of his vision and leadership.