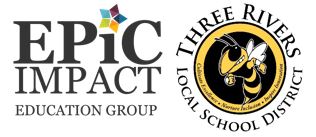 As we continue with the District's Strategic Planning Process, the second round of Focus Groups will be held on October 25th. If you were unable to attend a Focus Group in September, please consider joining us so that we can hear as much feedback from our stakeholders as possible.

Focus Group Times:
Community/Parents - 11:00 am
Three Rivers Staff - 4:00 pm
Community/Parents - 6:30 pm
(All meetings will be held in the Auditorium at the Three Rivers Educational Campus. For safety purposes, please enter the main doors into the lobby when attending the 11:00 am Focus Group.)

Also, if you have not yet done so, please consider taking the Strategic Planning Survey for additional feedback that will help to create a purposeful and intentional 3-5 year plan. Click HERE to take the survey now.