Side Menu Ends, main content for this page begins
Back to Side Menu (includes search)
Elementary Students Sending Love this Holiday Season
Posted on: December 13, 2019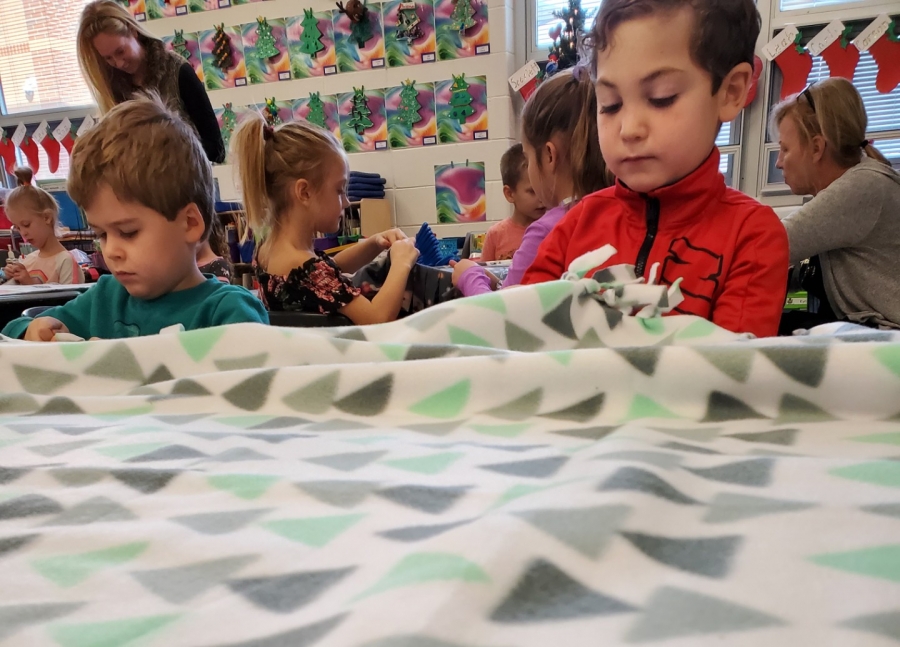 As they prepare for the holiday season with their families and friends, students from Mrs. Reynolds' kindergarten classroom at Three Rivers Elementary spent some time tying knots of love for others they have never even met. My Very Own Blanket, an organization dedicated to warming the hearts of every child in the foster care system by providing them a handmade blanket, caught the attention of Mrs. Reynolds, who decided she could use her students to not only support the organization and their cause but also help her kindergarteners understand the importance of giving.
Students in Room B110 were excited about the idea, but many were faced with the early frustration of tying a knot to make the blanket. However, perseverance took over the room as they began seeing their friends find success. Within twenty minutes, almost all of the students were showing pride as they were continuously reminded by the helping staff that their efforts were going to children that didn't have the same kind of home to return to at the end of the day. Before long, the entire class was working together for a great cause and sharing each other's success with one another.
With the help of Mrs. Reynolds' idea to support My Very Own Blanket, the students' giving attitudes, and the parents' contributions, Room B110 at Three Rivers Elementary started off the holiday season by volunteering their time in the most selfless way.
For additional information on how you can help support My Very Own Blanket, click HERE.