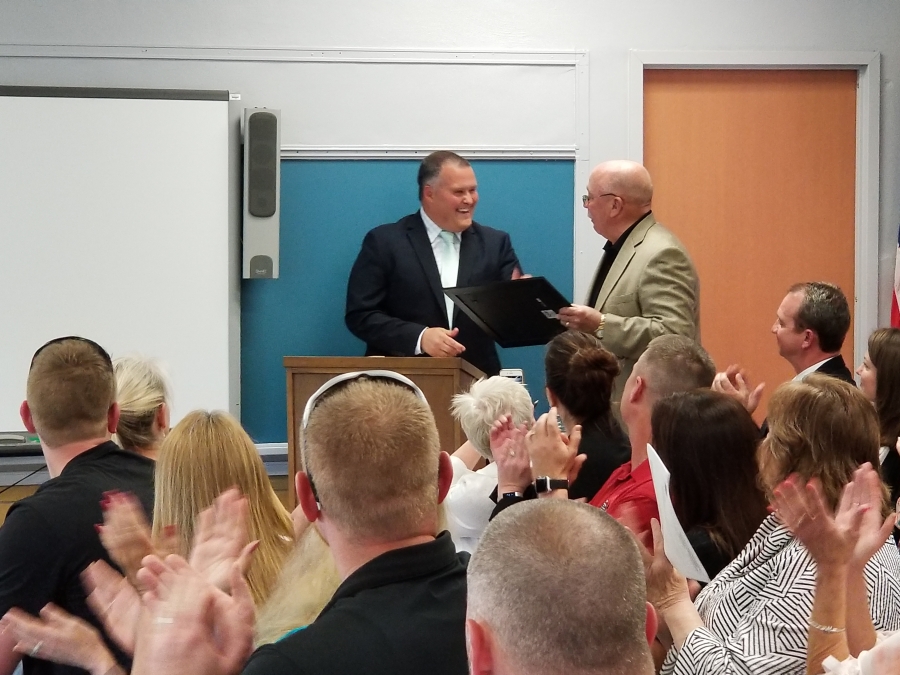 Three Rivers was very excited and honored on May 8, 2018, to have the privilege to recognize a gentleman that has positively impacted hundreds of student-athletes. Coach John Young is a Taylor Grad who played four years of Yellow jacket football and basketball. After graduating from Taylor in 1963, Mr. Young went on to have a very impressive career. I would also like to take a moment to welcome his wife of 27 years, Patty Young, who is also currently working as one of our clerical subs.
Mr. Young's decision to choose education and athletics for his career was not surprising as his grandmother was a principal in the Three Rivers District and his grandfather was Charles T. Young, Superintendent of Schools and the man this building was named after. His pathway was made and he certainly found his niche. During his 40 plus years in education, Mr. Young became an extremely respected coach. In 1977, he accepted a position as Aiken's Head Football Coach. During his tenure, Coach Young saw 42 of his players go on to play football at Division 1 schools and 8 were drafted to the National Football League.
With roots embedded generations deep in Cleves, Mr. Young has become a citizen people are proud to know. Even his father, Harold Young, a 1930's Taylor grad was the Mayor of Cleves in the 1960's. Additionally, 2 of his 11 grandchildren currently attend Three Rivers Elementary. There is no doubt that Cleves is lucky to have Coach Young, but it's the impact he had beyond Cleves that truly completed his resume and is why I am proud to recognize him for his years of service to student-athletes.