Side Menu Ends, main content for this page begins
Back to Side Menu (includes search)
Western Hills Community Service Club Names Student of the Year
Posted on: March 23, 2018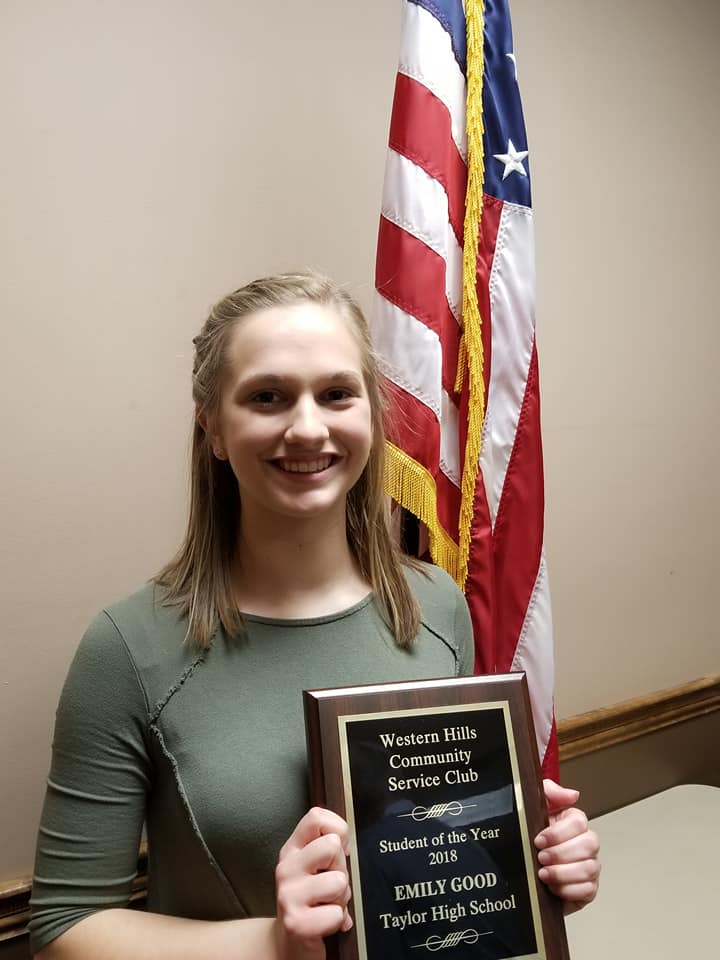 Cleves, March 2018 – In January of this year, Emily Good was named The Western Hills Community Service Club's Student of the Month for her academic achievement, leadership capabilities, and her display of character. Once students receive this prestigious honor, they are then permitted to apply for the Student of the Year Award.
The Western Hills Community Service Club is an all-volunteer, non-profit service organization that supports the community through leadership, partnerships, and charities. The Club holds monthly meetings, focusing primarily on supporting local students and families through partnerships with a wide variety of dedicated agencies.
During the March 22, 2018 Western Hills Community Service Club's meeting, Mr. Jim Miceli stated, "this award was not won by a landslide this year. The competition was incredible and the resumes each of the applicants submitted were beyond impressive." Despite the strong competition, Emily Good was named the Club's 2018 Student of the Year. Mr. Miceli went on to read her seven-page resume and commented on how "professional her resume was, especially for a student still in high school."
Emily's resume is packed with her accomplishments from her career at Taylor High School. Even as a freshman, Emily was awarded Highest Honor Roll and a Best in Class Math Award. Her talents did not stop there; she has gone on to advance her resume with academic awards and recognition, as well a long list of community service hours that support the students of Three Rivers and the community as a whole.
The staff works extremely hard to cultivate excellence in every student at Taylor High School. Emily is an example of a student who has invested her whole self into the possibilities at Taylor. While actively enrolled in College Credit Plus and AP classes, Emily still manages to rank 2nd in her class.
When thanking the Western Hills Community Service Club for the honor, Emily said "I intend to use this scholarship for my college. I want to work to become a Speech Language Pathologist in the neonatal unit. I think it's neat to help people at the start of their lives." This quote reflects much of the service on Emily's resume as she has volunteered countless hours to helping others.
During the celebration of Emily being named the Student of the Year, she was joined by her mother Angela McDonald, stepfather Ryan McDonald, grandfather Jeff Reiter, Principal Ceair Baggett, Superintendent Craig Hockenberry, Counselor Marla Heckman, and Student Services Director Megan Rivet.
Emily's support extends into the classroom as well. Her Teaching Professions Academy instructor stated in a letter of recommendation for Emily that, "she is an excellent student leader and I have no doubt she will be excellent at any of her future endeavors." She went on to say that Emily is, "persistent, diligent, and hardworking." The current speech pathologist at Taylor High School also spoke highly of Emily saying, "she will continue to push herself to grow and develop as a creative-thinking problem solver."
Three Rivers Local School District would like to thank The Western Hills Community Service Club for providing such incredible scholarships to students all around the area. Their support of education is very much appreciated.