Taylor Middle School Blog
MathCounts
Posted on: February 8, 2017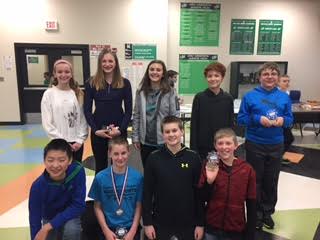 Taylor Middle School's MathCounts teams traveled to Harrison Jr. High to compete in another scrimmage. The team battled six others and, again, came in first!
Brandon McCollum, Lee Garber-Ford, Nick Buirley, and Liam Qiu all scored high marks in the sprint and target rounds. The team was perfect in the team round as they did not miss a single question!

The top competitor from Taylor was Brandon McCollum. He competed in the countdown round; making it to the championship round! He finished second overall.

Kaitlin Bucher, Michael Rapien, Bren Updegrove, and Hannah Howard worked together and had consistent scores as our second team!