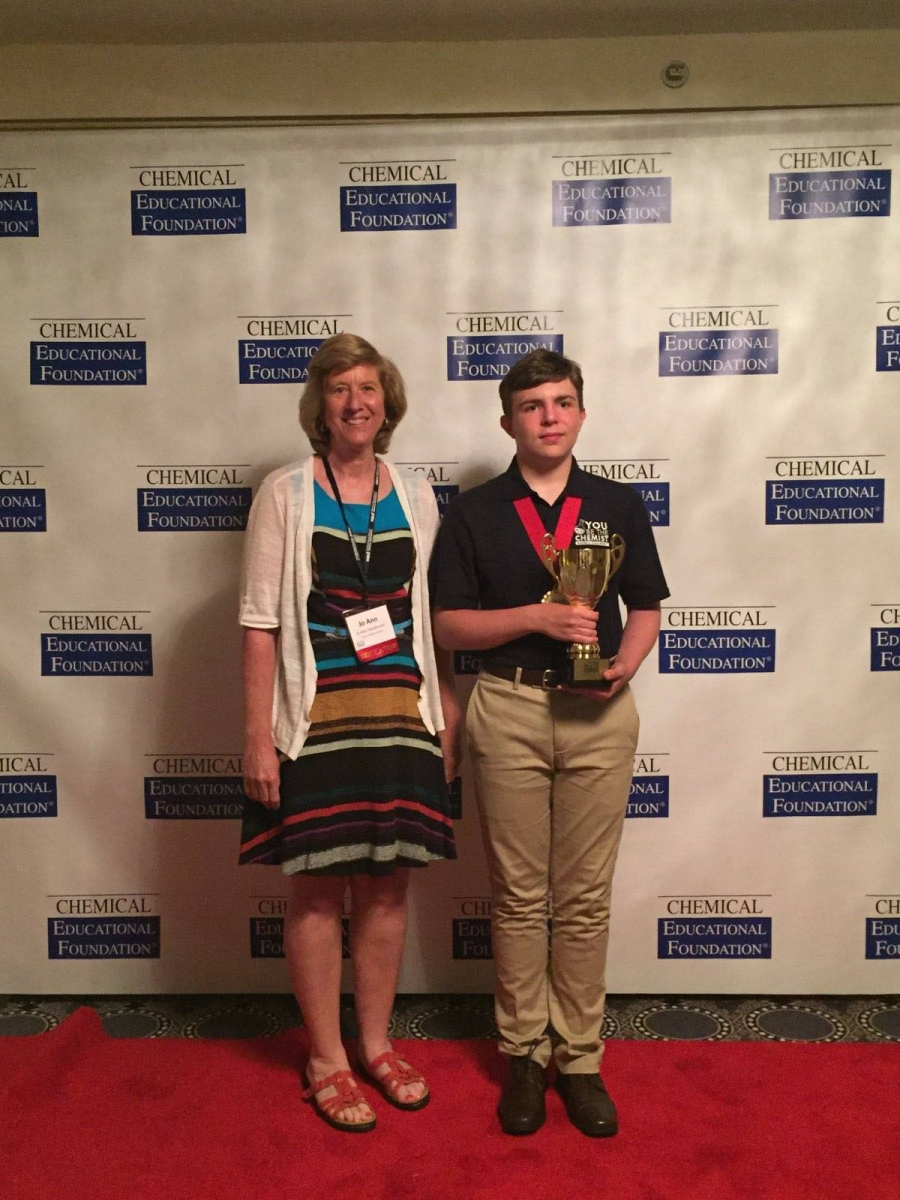 Cleves, June 2018 – The Chemical Foundation announced the forty-two middle school students from around the Country who would be competing in the National 2018 You Be the Chemist® Challenge in Washington, D.C. The non-profit organization is dedicated to inspiring students to pursue chemistry and STEM-related learning careers. There are currently forty-six thousand students from around the Country participating in the program and Taylor Middle School students contribute to that number. Three Rivers Local School District has a very successful and competitive group of students who participate in the program, which is led by teacher, Sarah Kemme. This year, three students from Taylor Middle School advanced to the State level competition in Toledo, Ohio. Lee Garber-Ford, Brandon McCollum, and Tony Martini all traveled to Toledo to showcase their knowledge with other students from around the State. All three represented Three Rivers Local School District very well, with Lee Garber-Ford returning to Cleves with a State Championship title, advancing him to the National level.
Following the competition in April 2018, Lee reflected on the experience and shared, "The most exciting part of the challenge so far was the State challenge. Not only did I get to go, but two of my friends also competed. We got to participate in the Challenge together and, afterward, have a celebratory dinner. They both did well, making it to the second round. The competition wouldn't have been as good of an experience without them by my side."
On June 18, 2018, Lee, alongside his parents and teacher, Jo Henderson, traveled to Washington, D.C. to represent Taylor Middle School at the Nationals to compete with 42 other You Be the Chemist® State winners. Although Lee was unable to compete alongside his peers this time, it certainly did not deter an incredible performance.
As the competition started, teacher Jo Henderson, began updating supporters back home in Cleves about Lee's performance. It did not take long for her to announce that from the original forty-two students, the competition had narrowed to a mere fifteen. Everyone back home reading the text could feel the excitement happening for Lee in Washington, D.C. The texts continued, and before long, Lee was named in the top four of the entire Competition. Following sixteen rounds of a tiebreaker, 8th grade Taylor Middle School student, Lee Garber-Ford achieved third place, granting him the title, trophy, and $3,000 academic scholarship.
Three Rivers Local School District extends congratulations to all forty-two middle school students from around the United States who competed at the National level; the District also extends a special congratulations to the seventh-grade Challenge Champion from Glen Allen, Virginia, Shreyas Arcot.