Tickets available now! Email Dave Huffman at dhuffman@trlsd.org if you're interested.
The Yellow Jacket Foundation
The Three Rivers Educational Campus opened in 2013 and became the new home for Taylor High School, Taylor Middle School, and Three Rivers Elementary School. The money to build this project came from our School Bond for the Miami Township community. The School Bond only covered the cost of the school buildings, leaving us the need to separately fund all athletic facilities. The Soccer, Football, and Track fields, new concessions, and public restrooms are all completed. The Softball field is under construction, thanks to LaRosa's and should be completed in 2016. Revenue for these projects came from selling school properties and large donations. The remaining projects include the Baseball field, indoor practice Field House, Locker Rooms, Training, Film, Offices, and Storage.
Contact Patty Lysaght with questions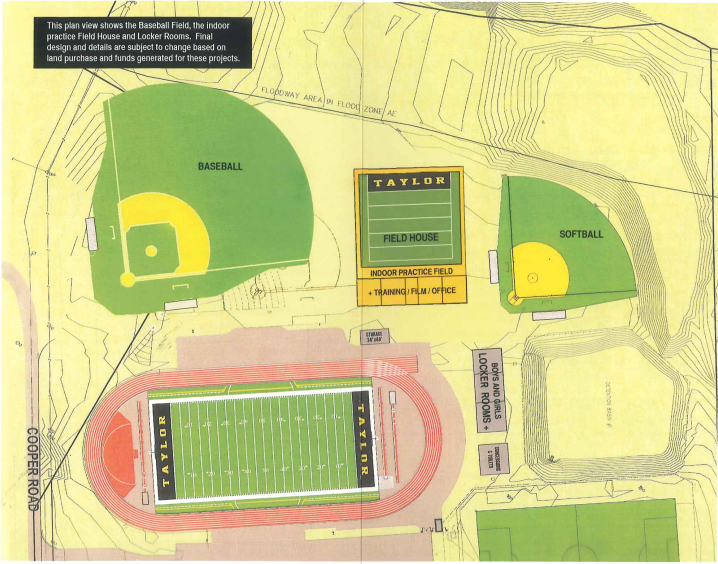 How to Help
The Yellow Jackets Foundation was formed in 2014 as a 501 (c) 3 non profit organization. The Foundation will generate funds for the remaining buildings and future maintenance for all athletic facilities as they age. Our plan is to have an annual pledge program to generate enough money to complete these projects. We cannot build these facilities until we have the funds available. Your yearly pledge payment is the only means that we have to count on. We would like to target our funding goals to be completed in 5 years (or sooner). It's up to you! This is a community project, however, some of your alumni friends who no longer live in our community may wish to also donate.
These facilities can also be utilized by residences of this community. It is not just for the kids. If you are interested, contact the school for details and availability.